Valentine's Day Treats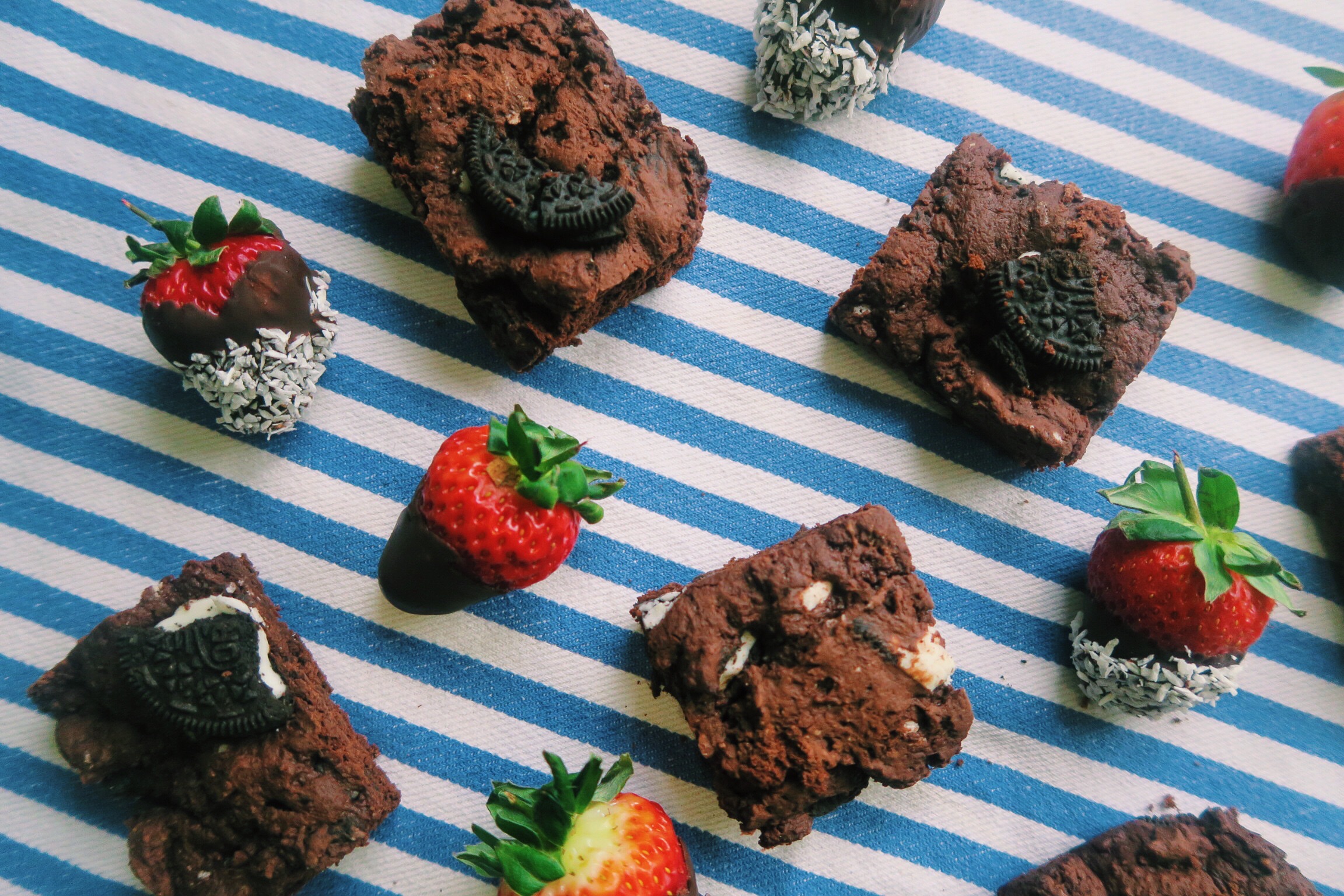 OREO BROWNIES
[ Yields 9 Brownies ]
What You Need ;
170g self-raising flour
200g dark vegan chocolate
3 tsp cacao powder
150g caster sugar
5 tbsp vegetable / coconut oil (melted)
1 tsp vanilla bean paste
230ml non-dairy milk
1/2 - 2/3rd pack of oreos
pinch of salt
Preheat the oven to 180 degrees celsius and grease a square/rectangle baking tin with greaseproof paper
Sieve the cacao powder and flour into a large bowl, add the sugar and mix
Melt the chocolate and add it to the mixture along with the coconut oil, non-dairy milk, vanilla bean paste and salt, mix to combine
Break the oreos into pieces and stir them into the mixture before spooning it into the tin and baking for 20-25 minutes
Leave to cool slightly before cutting into squares and enjoying warm with vegan ice cream or non-dairy custard!!!
CHOCOLATE COVERED STRAWBERRIES
Okay so this is probably the easiest and most straight forward recipe ever but honestly I feel chocolate covered strawberries are SO underrated!!! Whip these up in 5 minutes for a last minute romantic snack whilst you watch Netflix in bed (with or without someone else...)
What You Need ;
strawberries
vegan dark chocolate
desiccated coconut
cacao nibs
any other toppings!!
Melt the chocolate
Coat the strawberries
Roll in the toppings of your choice!
ENJOY
CHOCOLATE VANILLA CUPCAKES
[ Yields 12 cupcakes ]
What You Need ;
2 tsp vanilla extract
1 tsp bicarb of soda
1 1/2 tsp baking powder
2 tsp cider vinegar
150ml vegetable oil
300g caster sugar
350g plain flour
500g soya yogurt
1/3rd cup cocoa powder
Preheat the oven to 170 degrees celsius
Beat together the sugar, butter (once melted and cooled) and vanilla extract with an electric whisk until combined
Mix the cider vinegar and yogurt together before adding to the bowl
Add the flour, cocoa powder, bicarb and baking powder to the bowl and mix until well combined
Fill your cupcake tray with cases and spoon the mixture evenly between them all.
Bake in the oven for around 20 minutes or until a metal skewer comes out clean when removed from the middle
Once removed from the oven, leave to cool slightly in the tins before transferring to a wire rack and leaving to cool completely
Once cooled completely (I left mine overnight) add the vegan butter, icing sugar, almond milk and vanilla paste into a food processor and mix for 5-10 minutes or until light and fluffy

Using a piping bag (or sandwich bag) and nozzle, ice the cupcakes and then top with raspberries, strawberries or anything else you desire!
EASY CINNAMON ROLLS

This is my favourite discovery - the Jus-Rol pre made pastries that also happen to be VEGAN!! They are so simple and easy to prepare and they taste just like fresh pastries from a bakery, I would highly recommend!

You Will Need ;
1 Pack of Jus-Rol Cinnamon Swirls

Remove the dough from your Jus-Rol Cinnamon Roll tube and slice it into 6 equal pieces

Place the cinnamon rolls onto a lined baking tray and bake in the oven at 180 degrees celsius for 11-14 minutes

Once cooked, combine the icing sugar provided with 1 1/2 tsp of water and drizzle over your cinnamon rolls (you should wait for them to cool completely before you do this but I couldn't wait!)

EASY PAIN AU CHOCOLAT

Another product from the Jus-Rol pre made pastries line, these require a little bit of assembly but are equally as easy, quick and delicious! These would be perfect for a Valentines Day breakfast as they only take 5 minutes to prepare and taste so much better than the ones you buy just to reheat in the oven!

You Will Need ;
1 Pack of Jus-Rol Pain Au Chocolat
Non-dairy milk

Unroll the dough from the tube and separate into pieces along the perforations

Place 2 chocolate sticks at the ends of each piece of dough before rolling the ends in and pressing down on the seam

Place them seam side down onto a lined baking tray, glaze with non-dairy milk and and bake in the oven at 180 degrees celcius for 12 minutes