Peanut Butter Cookies
Peanut butter is no doubt one of my favourite foods of all time, so it would be unfair of me to not share this incredible cookie recipe. These cookies are perfect for a healthy (ish) snack, either to take to school / uni / work or just out and about with you, alternatively they would be great for breakfast if you're running late or with a cup of tea in the afternoon - the possibilities are endless!
 
As with all of my recipes this is a base recipe so adaptations are welcome, you can use any type of non-dairy milk, my favourites being almond milk and rice milk, but any should work just fine! You can also use gluten free oats / oat flour if you wanted to make this into a gluten free cookie recipe, and coconut sugar could replace the brown sugar if wanted however note that this may alter the taste. I wouldn't suggest substituting the brown sugar for a liquid sugar such as maple syrup as this would alter the texture and as they are already pretty gooey cookies they may not set as well to form the cookie shape.
[ Yields 9 - 10 cookies ]
You Will Need;
1 cup peanut butter
2/3rds cup oats / oat flour
1tsp bicarb of soda / baking soda
2tsp vanilla extract
1/4th cup non-dairy milk
1 cup brown sugar
Food Processor
Preheat oven to 180 degrees Celcius
If using oats as opposed to oat flour, put your oats into the food processor and pulse until a flour-like consistency is formed
Add the rest of the ingredients to the food processor and blend together (alternatively if you don't have a food processor, put all of the ingredients into a large bowl and mix)
Once completely mixed your mixture should form a ball in the food processor
Remove the mixture from the food processor and grease two baking trays with greaseproof paper
Take small handfuls of cookie dough and place onto the greased trays, making sure you lightly flatten each ball of dough onto the tray (see below)
Place trays in the preheated oven and bake for 8 - 10 minutes, once cooked the cookies should have a cracked exterior that has browned but is still squishy to touch
Leave the cookies to harden for a few minutes before transferring to a wire rack and leaving to cool completely (or until cool enough for you to have a bite)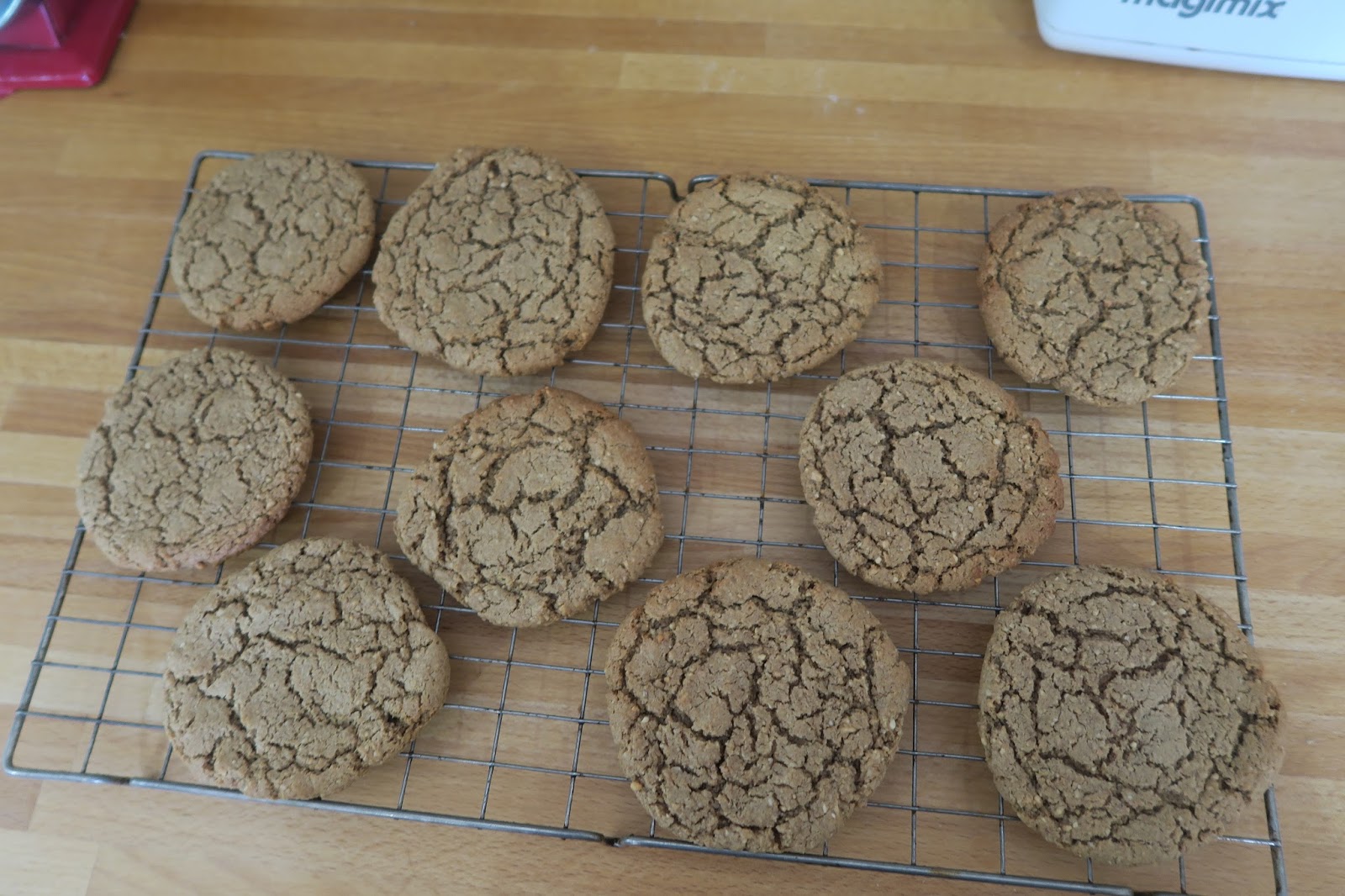 Just like with my breakfast cookies, these would be the perfect type of cookie to create a ice cream sandwich with! Just take your favourite non-dairy ice cream (mine are Booja Booja Chocolate or Swedish Glace Vanilla) and sandwich a spoonful between two of these cookies! Perfect for dessert or as a summer snack! I hope you have enjoyed this recipe and if you do recreate them please send me a picture on twitter (@positivesoph) or tag me on instagram (@positivesoph) I would love to see your creations! - Sophie :)