Eating Vegan in Australia
When visiting Australia in 2015, I was only a year into the vegan lifestyle and not sure how good the options were on the other side of the planet. However I was more than pleasantly surprised and ended up having some of my favourite meals ever when in Aus, and have made it a goal to return to Melbourne just to visit Smith & Deli again. Hopefully this will be of some use if you live in Australia or are ever visiting, as these were my favourite spots! Hope you enjoy.
SYDNEY
Sydney was a vegan dream, with Newtown being the place to be! Home to all the vegan restaurants you could ever want, an indie-but-not-quite-yet-pretentious vibe and only 10 minutes from central station, Newtown became my home during my stay and I definitely will be going back in the future! Not only does Newtown have the famous Gigi's pizzeria, it also is home to Gelato Blue - an incredible vegan dessert bar, so definitely worth a trip if you're ever in Sydney.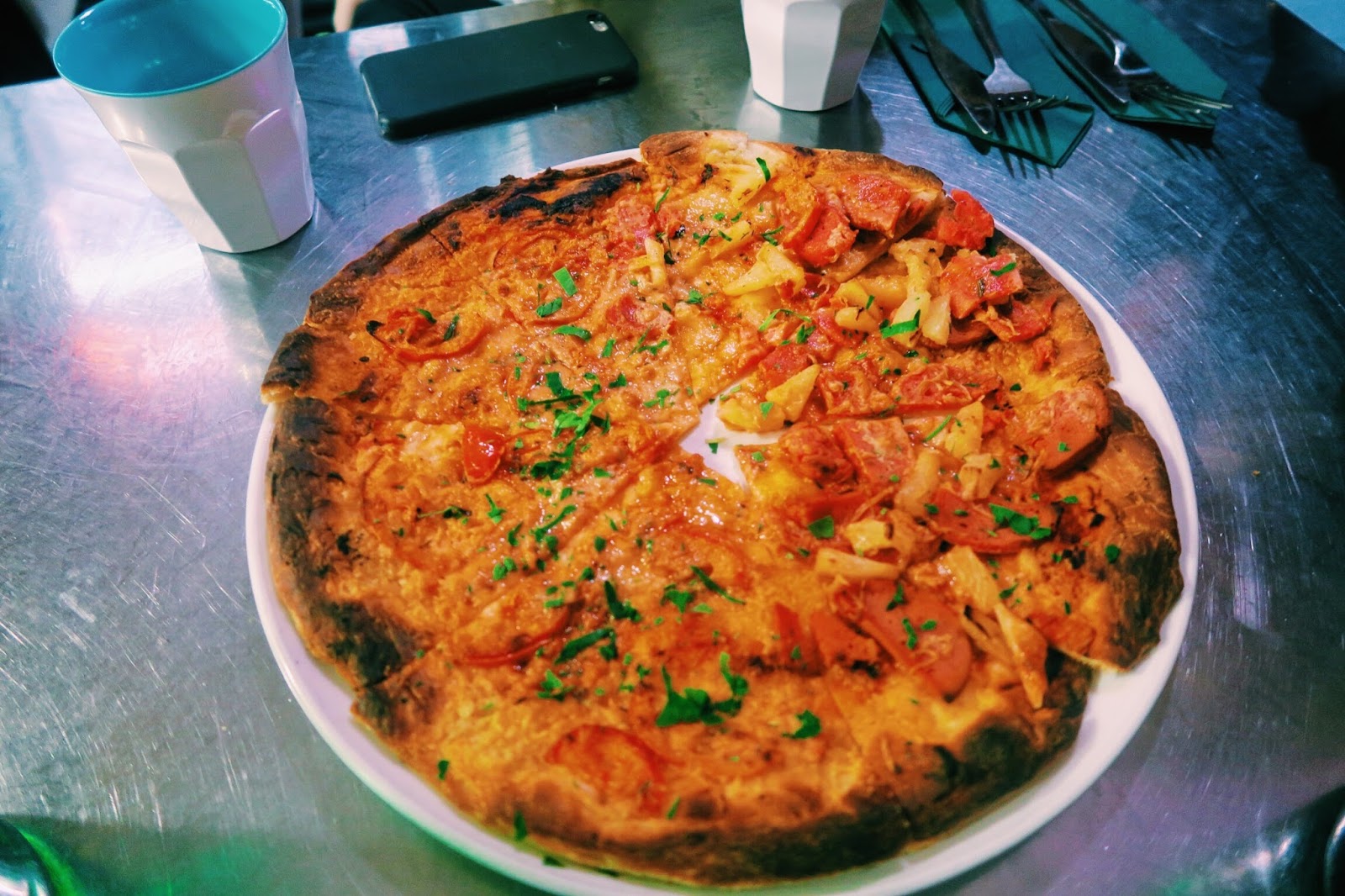 BASIL - NEWTOWN [now permanently closed]
As soon as I arrived in Sydney I met some of my friends that I had met on social media (and bonded over veganism) for dinner, and we visited Basil Pizzeria. We ordered half and half pizzas of almost every vegan topping (Pepperoni, Hawaiian, Margherita, Potato & Rosemary and Animal Lovers - Ham, Pepperoni & Tofu) however after waiting in anticipation for the pizza to come out we were told that the pizza oven had broken !! You can imagine how devastated we were! Luckily they managed to salvage 2 of the pizzas, one half Pepperoni / half Hawaiian, and one Margherita (which was eaten so fast I didn't even get a picture). The staff were so lovely and gave us both for free because of the inconvenience, meaning we went on to another restaurant (pictured below) but the pizzas we did have were definitely worth the visit.
GIGI'S PIZZERIA - NEWTOWN - 100% VEGAN
The other vegan pizza restaurant I visited was Gigi's, a renowned pizzeria that turned 100% vegan in 2015. This restaurant is so popular that there is a constant line out of the door, luckily I only had to wait about 20 minutes to get in when I visited! Unlike Basil Pizza, they don't feel the need to recreate the 'classics' but instead make their own incredible flavours. I had the Patate - thin sliced roasted potato, garlic, rosemary and black truffle paste, (pictured below), it was absolutely delicious! If you're looking for pizza for a special occasion then I would highly recommend Gigi's, the sophisticated atmosphere and exquisite flavour combinations are unbeatable. They also have an extensive menu of non-pizza items and desserts - such as tiramisu and cannoli's. You can find Gigi's Pizzeria at 379 King St, Newtown NSW 2042.
 
GREEN GOURMET - NEWTOWN - 100% VEGAN
After the unfortunate occurrence at Basil Pizza we all decided to go to an Asian buffet instead called Green Gourmet. Green Gourmet is a 100% vegan buffet that has a wide range of dishes both on the extensive menu or in the buffet! For the buffet, which is what we did, you just load up your plate, weigh it and pay for how much you select! Its delicious, easy and affordable making it the perfect place to visit for lunch or dinner! The selection of food I got from the buffet (pictured above) included the most AMAZING barbecue pork!! Oh man seriously if you are in the area, this is somewhere you HAVE to try! They also have a supermarket next door selling all vegan foods, including cakes, desserts and frozen versions of their food for you to cook at home! You can find Green Gourmet at 115 King Street, Newtown NSW
SADHANA KITCHEN - NEWTOWN - 100% VEGAN
Now if you have ever scrolled through the instagram accounts of australian vegans with a large online presence, you will have heard of Sadhana Kitchen. Known for its wholesome, instagrammable vegan food it was somewhere I knew I had to go whilst in Sydney! The cafe itself has such a welcoming vibe, and beautiful decor that even without the incredible food it would be the perfect place to lunch with friends or take your non-vegan family. But then you get a glance at the menu... which lead to me taking a good 15 minutes to decide between what I wanted (which was everything). I finally decided on the 'vegan eggs benedict' which consisted of rye bread, mushrooms, COCONUT BACON and avocado topped with homemade hollandaise sauce, it was delicious! I also went for a bright pink smoothie and of course a salted caramel coco whip, because who could resist?! You can find Sadhana Kitchen at 147 Enmore Road, Enmore NSW
GELATO BLUE - NEWTOWN
One of the places highest up on my 'to-visit' list was Gelato Blue, a vegan dessert bar with over 10 vegan ice cream flavors (including Peanut Butter Brownie, Choc Hazelnut Crunch and After Dinner Mint) as well as brownies, cookies, donuts, cakes, just everything you could EVER want! The first time I went I got a warm brownie with peanut butter brownie ice-cream, a waffle cone and chocolate fudge sauce *insert heart eye emoji*, and then the second time I got a popping candy donut, chocolate hazelnut crunch ice cream and coconut ice cream (IT WAS AMAZING). If you are ever in Sydney this place is your first point of call, and your second point of call.. and your last point of call, just seriously go there, you will thank me! You can find Gelato Blue at 318 King Street, Newtown NSW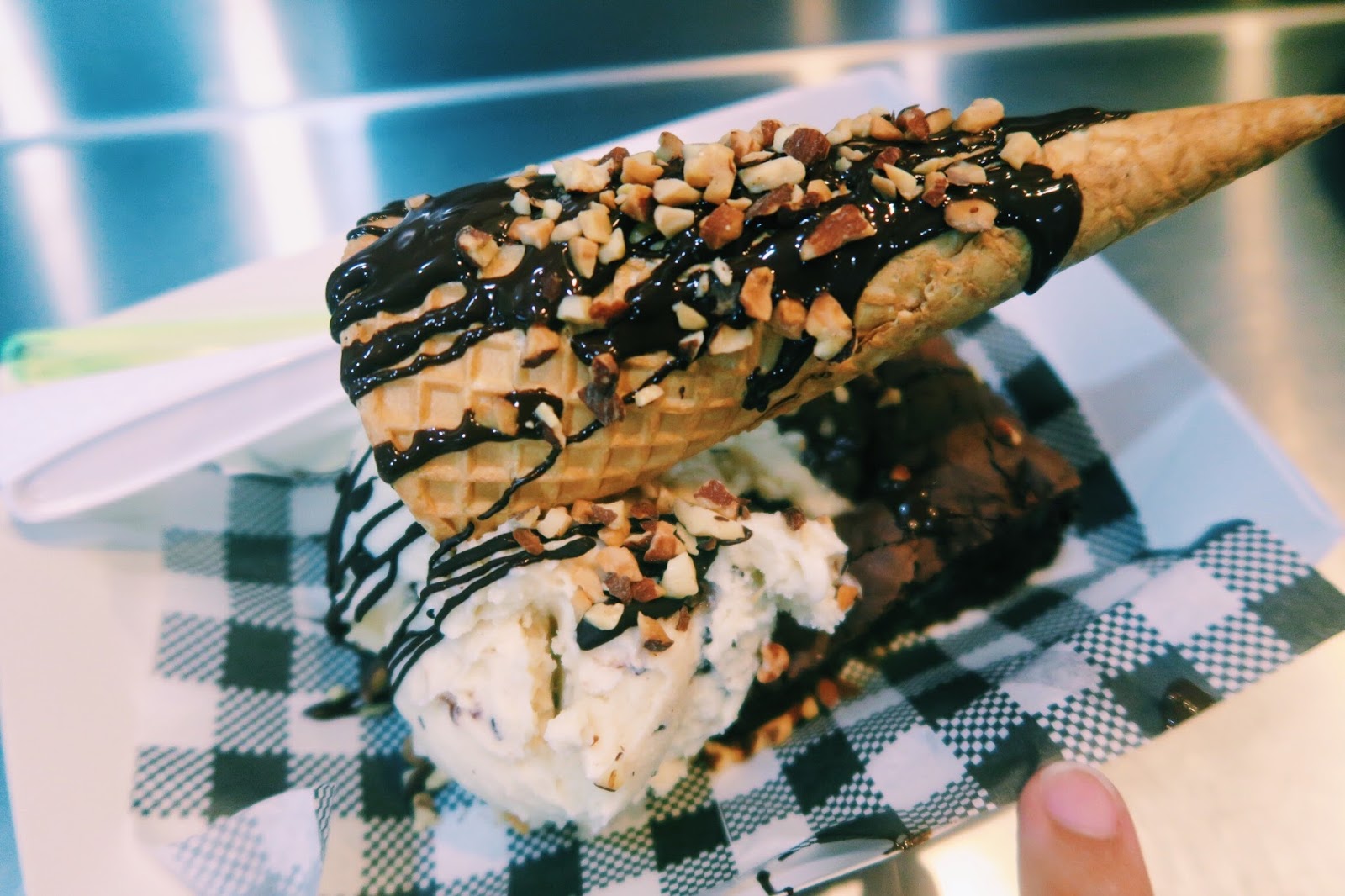 MELBOURNE
Melbourne was actually my favourite place that I visited in Australia, and part of this was due to the fact it was the home to Smith & Deli. Much alike Sydney, Melbourne had its own alternative suburb that was home to an abundance of vegan cafes, called Fitzroy, with Brunswick Street being particularly vegan friendly. I practically lived in Brunswick Street when I was in Melbourne as it had the most amazing atmosphere, people, and of course food!!
SMITH & DELI - FITZROY - 100% VEGAN
The place of all vegan dreams is Smith & Deli... which I hadn't actually heard of before the vegan meal in Sydney where we all spent about an hour scrolling through their instagram and crying over the fact they sold VEGAN CROISSANTS??!!! Unfortunately I didn't get any croissants when I went to Smith & Deli BUT I did get a tuna and cheese toasted sandwich .... twice. Tuna and cheese toasted sandwiches was my favourite food EVER before I was vegan so as soon as I saw this on the menu I had to get it! And it did not disappoint, it was so delicious that I went back right before my flight and bought another so I could take it on the plane to Perth with me, I know, I really am a genius. But for real, Smith & Deli is a 100% vegan deli (and bakery, and shop) that sells anything you could ever want, from meatball sandwiches, to BLTs, to pizza, to donuts and PAVLOVA - vegan pavlova!!! I don't know how they do it but I do know that it is possibly the best thing to ever exist and you have to go there immediately! You can find Smith & Deli at 111 Moor St, Fitzroy VIC
VEGIE BAR - FITZROY
I discovered this place on my last day in Melbourne and thanks to a new friend I made at the noodle night market the night before! Once again on Brunswick St, this place is incredible! It has so many vegan options that are both affordable and delicious, such as the vegan nachos with cashew cheese that I had! The best thing about this place though is the communal seating areas! This is perfect if you are traveling as you can chat to the people around you but also great if you are going with your friends or family as there is ample space for everyone and also so much room to make new friends! You can check out their website here if you want to see the menu and find out more information. You can find Vegie Bar at 380 Brunswick St, Fitzroy VIC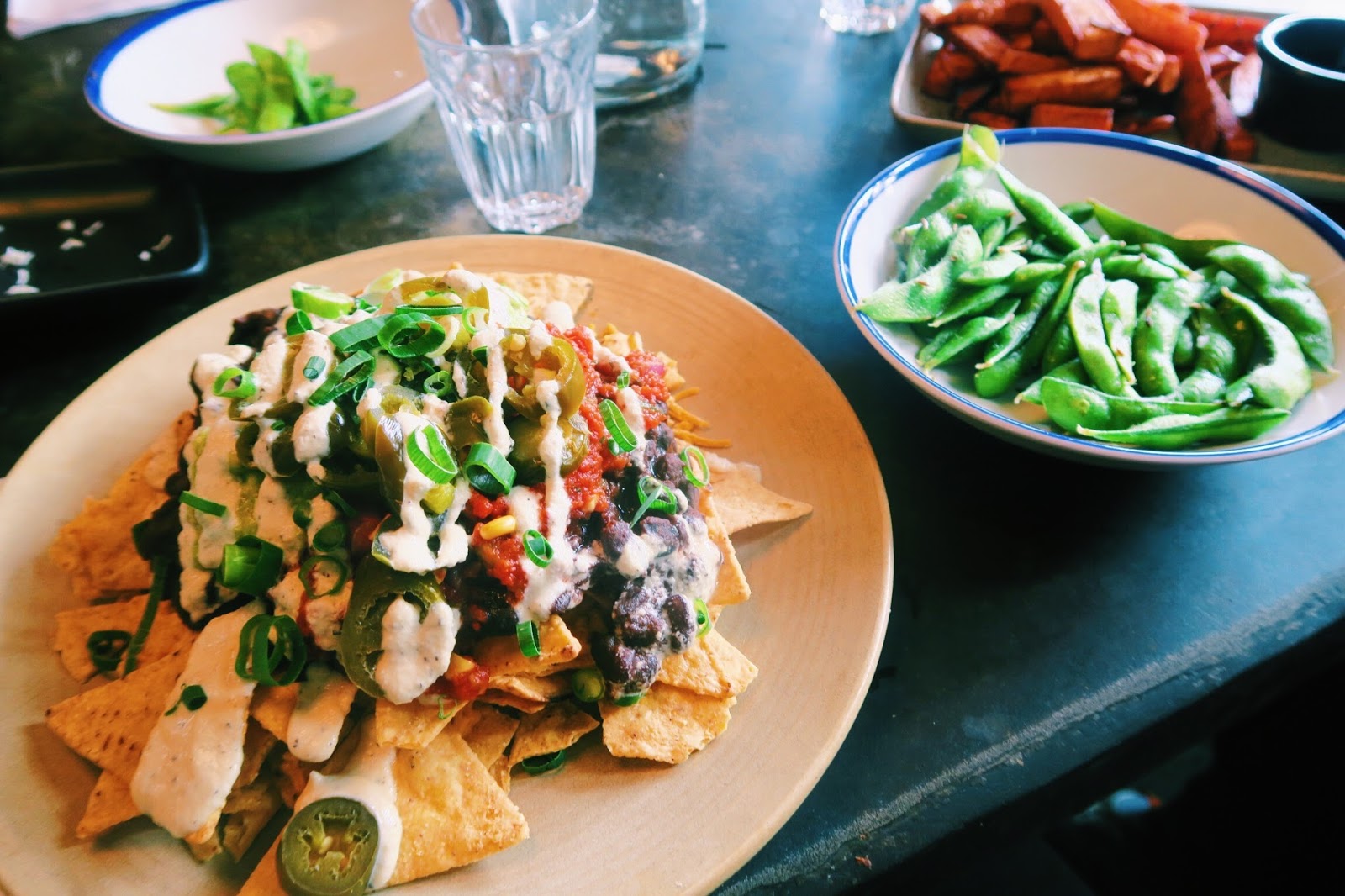 DOLLY'S SISTER - GEELONG - 100% VEGAN
This place was a saviour for me, for the entire month and a half of traveling before I arrived in the Melbourne area I was CRAVING vegan mac and cheese, and then I found this place in Geelong just before I was about to leave for the airport and IT HAD MAC AND CHEESE! This mac and cheese was honestly the creamiest, cheesiest vegan pasta that I had ever had and it was absolutely incredible! Not only was the food amazing here (I also had chocolate cake for dessert and a smoothie) the atmosphere was just so chilled! Everyone that worked at Dolly's Sister was so welcoming and friendly, and the whole cafe was plastered with vegan activism posters which I found incredibly cool. If you ever find yourself in Geelong I highly recommend this cafe, you can find Dolly's Sister Cafe at 221 Moorabool, Geelong VIC
LORD OF THE FRIES - SYDNEY & MELBOURNE - 100% VEGAN
With branches in Sydney and Melbourne, I managed to find myself there 5 times within 2 weeks and I have no regrets. Lord of the Fries is definitely vegan junk food, but I don't even care, its glorious!! Lord of the Fries is a vegan friendly fast food chain that does burgers, hot dogs, fries, onion rings, 'chicken' nuggets and milkshakes... sounds amazing right?? They have vegan options for everything on the menu which amazed me, as I could order a cheese and bacon burger and a peanut butter milkshake and it would all be vegan and delicious!! The sweet potato fries are incredible, the milkshakes are incredible, the onion rings are incredible and oh my gosh, lets not even mention the BREAKFAST BURGERS !!! I had a vegan breakfast burger loaded with cheese, a breakfast patty, bacon and hash browns and it was honestly the best thing I had ever tasted You can find Lord of the Fries at Flinders St Station in Melbourne and Central Station in Sydney.
PERTH
I was only in the city of Perth for a few days but this didn't stop me finding the best vegan breakfast options possible! Much alike most Australian cities there was a specific part of the city where all of the vegan cafes resided, in Perth this was Northbridge. Northbridge was filled with cute little cafes, record shops and a ROOFTOP CINEMA (which was such a great experience!) as well as the art gallery, so definitely a place I would recommend visiting!!
FLORA AND FAUNA - NORTHBRIDGE
I managed to find this cafe via instagram whilst walking to Northbridge from my hotel but I sure am glad I found it! Nestled down an alley, this cute little cafe does the most beautiful vegan food, I mean look at that muesli bowl pictured above! Not only is the decor wonderfully retro and shabby-chic, the people working there are incredibly friendly and create the most welcoming atmosphere! This place is perfect for a brunch date with friends or just to explore by yourself for a moment of peace and good vegan food! You can find Flora and Fauna Cafe at 4/70 Aberdeen Street, Northbridge WA
LITTLE BIRD CAFE - NORTHBRIDGE
Another impromtu find via instagram, Little Bird Cafe creates the most aesthetically pleasing food I have ever seen! From the delicious pancake stacks to the monstrous cakes in every flavour you will not struggle to find something you like here! I had the pancakes topped with an abundance of fruit and cashew cream and not only did it combine the perfect mix of sweet and savoury it kept me full ALL DAY, it was incredible. I also had a slice of the vegan chocolate cake and let me tell you, it was the best thing I have ever eaten in my entire life. I would honestly endure the 29 hours of travel to Australia all over again just to have one more bite of this cake, it was creamy, rich and so chocolatey I had to eat it over 3 separate seatings but my god it was amazing. You can find Little Bird Cafe at 100 Lake St, Northbridge WA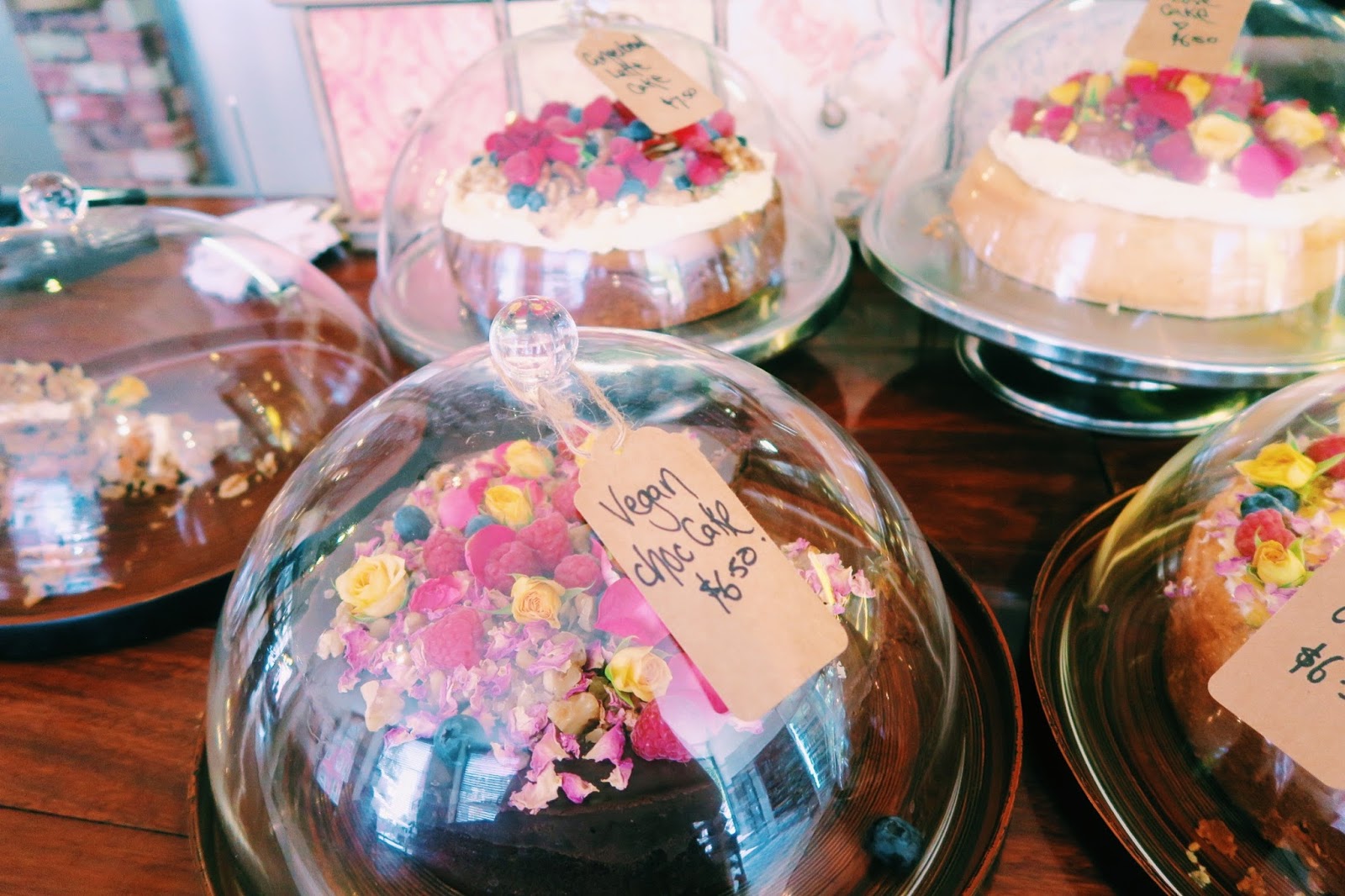 So that's it, my favourite vegan cafes across Australia. I really hope you have enjoyed this post and be sure to check out the videos on my youtube channel below, to see more Australia footage. As always I would love it if you commented below or contacted me on my social media accounts @positivesoph or via my email positivesoph@gmail.com with any feedback you may have!! - Sophie :)