Volunteering at an Elephant Sanctuary - My experience
THE PROJECT
As this experience was something I had always wanted to do, I wanted to ensure that I went with a company that would guarantee me a worthwhile experience. I spent a few months researching all my options in terms of where to travel to, who to travel with and which project would be best for me as an 18 year old solo traveller. Eventually I decided on a company called Gap360, as their 'Elephant Experience' based in Thailand seemed to best suit my preferences and I had read an abundance of excellent reviews of their service on websites such as Trip Advisor. The summary of the project as stated on their website is as follows :
"Enjoy an incredible elephant experience in stunning rural Thailand. Enjoy a cultural adventure and get up close to these majestic creatures as you stay at an 'elephant village' and live alongside local people in a Thai village off the beaten track. Help out with hands-on care of these amazing animals and live with the locals at a homestay in a rural Thai village. Spend weekends in sunny Surin and explore more of Thailand or hop across the border into Cambodia in your free time!"
After deciding the trip was for me, I booked a place on the trip and started organising! Gap360's customer service is something that really needs mentioning as everything was processed quickly, ensuring I could book my flights (and the rest of my travels) well in advance. Once booked, you are given access to your own account where there is an array of information on the trip, Thailand in general and any necessary extra costs or arrangements you may need to consider - such as vaccinations. Gap360 sent regular emails providing any updates or extra information on the trip, and even provided help with travel insurance and flights if you so wished for it. Another thing which I thought was really useful was that you could join a closed Facebook group for Gap360 Thailand projects where you could connect with others on the project with you! I started chatting to 2 other girls that were arriving in Bangkok the same day as me for the Elephant Experience meaning by the time we arrived we were already well acquainted, making solo travelling that little easier!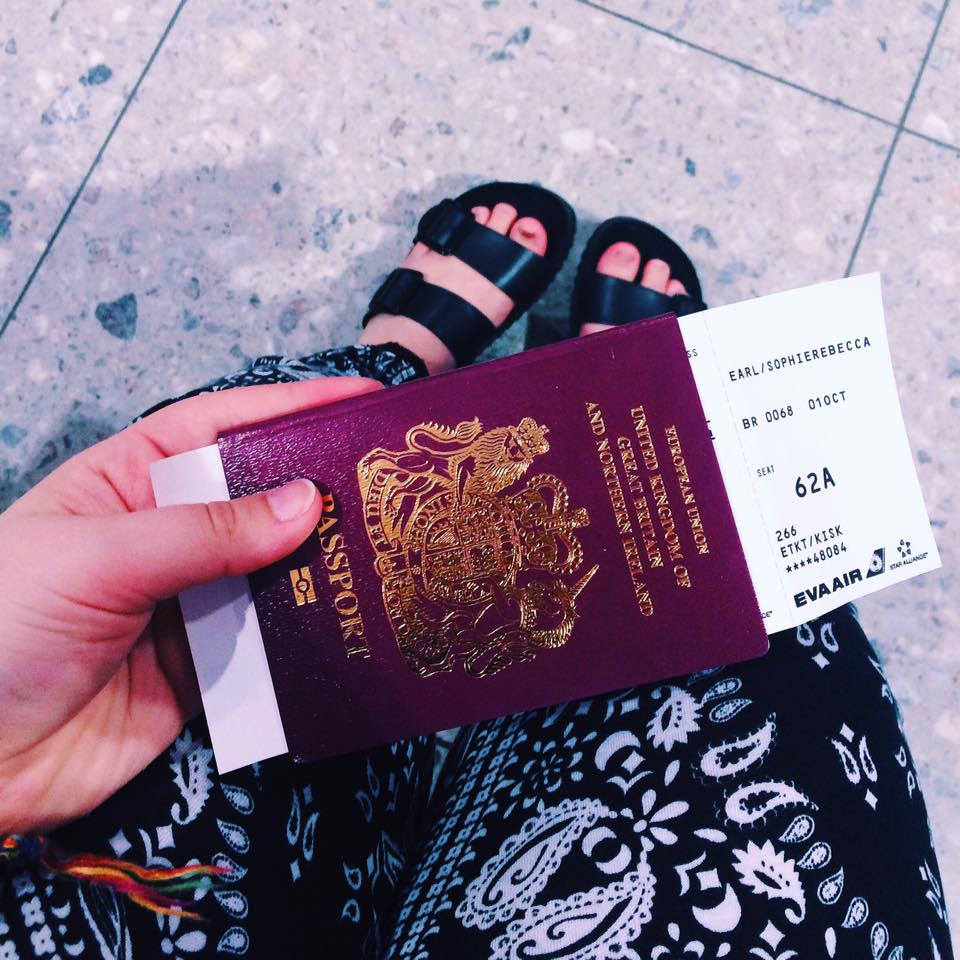 ARRVING IN THAILAND
After enduring a 12 hour overnight flight to Bangkok, I was met in the airport by one of the Gap360 staff from the Bangkok office who was one the friendliest and most welcoming people I met on the whole trip! They took my bags and we headed to the shuttle train into the city, where they presented me with the drinks and snacks they had brought me (bear in mind this is all included in the price) before taking a taxi to our hotel on Koh San Road. Once I was settled in to the hotel I was met by another representative of Gap360 who introduced me to my roommate - one of the girls I had been talking to before. We were then left to explore Koh San Road, grab some dinner and get adjusted to Thailand before our city tour the next day.
BANGKOK CITY TOUR
Included in the project was a tour of Bangkok by Gap360 representatives (who were staying in the same hotel as us, meaning if we needed anything during our stay they could easily help us). We were first given a spoken introduction to Bangkok and the project over breakfast, and were taught some basic but important Thai phrases before being taken on a private boat trip down the river via a floating market where we sampled local delicacies and then around 3 temples in Bangkok, including the Grand Palace.
The 2 tour guides we had, Al and Ben, were incredible at providing a detailed and informative insight into Bangkok city life, Buddhism and the origins of the temples we visited. We were able to spend all day looking around the city, including lunch at a thai restaurant, before we caught a tuk tuk back to our hotel. After freshening up we were once again escorted by Al and Ben to dinner and a show. Before the show we rode the Bangkok Eye, which provided an amazing view of the city at night, and ate dinner in the theatre, where I was given an extensive collection of traditional thai dishes (that were all vegan!) to eat whilst we watching traditional thai dancing.
SURIN
The closest city to the elephant village we were to be staying in was Surin, where we arrived at around 7pm after an 8 hour train journey from Bangkok. Our house in Surin wasn't far in a tuk tuk from the train station and was situated opposite a 7-11, a 5 minute walk from a large supermarket and only a minute walk from a delicious Thai restaurant called Pi'Koy. The three of us who arrived on the same day were sharing a room in the house, which had free wifi, a kitchen and a spacious outside area. We went to stock up on food for breakfast the next day before heading out for dinner at Pi'Koy - run by a lovely friend of the volunteering company 'Starfish' that Gap360 works in collaboration with. Surin had everything you needed, and as it wasn't a tourist hot spot it wasn't too busy either! Everything was mostly within walking distance, and tuk tuk's are cheap if you wanted to go further!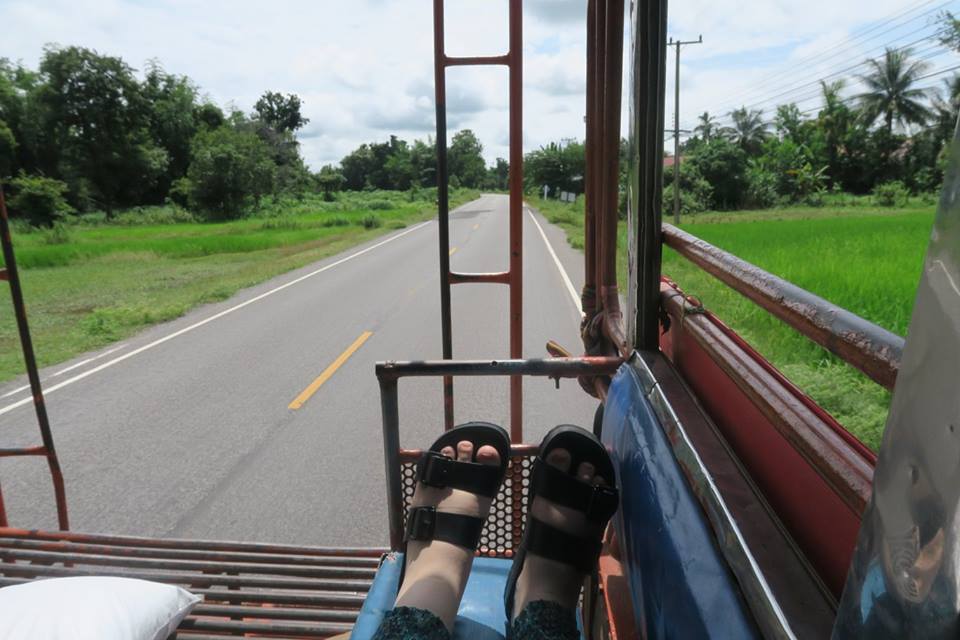 THE ELEPHANT SANCTUARY
The elephant village that we were staying at, Ban Tahit, was an hour and a half away from our house in Surin, and we were picked up by a truck the next morning and introduced to the rest of the group that would be doing the project with us (altogether there were around 15 of us). The open-air truck ride consisted of some spectacular views as we left the city and drove further into rural Thailand towards the elephant village. Upon arrival at our homestay in the village, we were introduced to the other members of the Starfish team we would be working with; Worn, Wi and A-ngoon and our homestay hosts - Mr Lee and his family, who were so welcoming!
Because there were 15 of us at the start we were staying in 2 houses, with our rooms consisting of mattresses on the floor covered by mosquito nets and there were hammocks outside for us to relax on. Due to Mr Lee and his son being Mahouts, their 3 elephants (Mum, Dad and baby) were living in the land behind our houses! There was also a small village shop opposite to our homestay that sold cold drinks, snacks and other essentials (although 3 meals a day were provided). There was plenty of space to play football or ride bikes around the yard area, and to go and play with the elephants any time of day!
If you are looking into projects like this or want a general idea of what you would be doing for your time there (2+ weeks). The general routine for our weeks at the project was as follows ;
(be aware that the specific work available will depend on what needs doing in the village at the time of your stay)
Monday - Arrive at the sanctuary in the morning, settle in and have lunch. After lunch, walk the elephants to the river (which is about a km away from the homestay) to feed them sugarcane and wash them. The Mahouts would accompany their elephants and if you so wished, you could sit upon the elephants shoulders to help wash the dirt from its back and head. Once they were clean, and we were thoroughly soaked and covered in dirt, we would walk with the elephants back to the village though the rice fields or the jungle areas
(Note that at no point did we RIDE the elephants, as this is not an ethical or safe practice). Once we were back and showered, it was free time for activities such as trying out some thai cooking to help with dinner, playing football with the local village children, cleaning out the elephants shelters with help from the mahouts, feeding the elephants banana leaves and sugarcane, or just relaxing on the hammocks! Dinner was served around 6pm every day and then in the evening you could either get some well earned rest or have a few drinks with your new friends!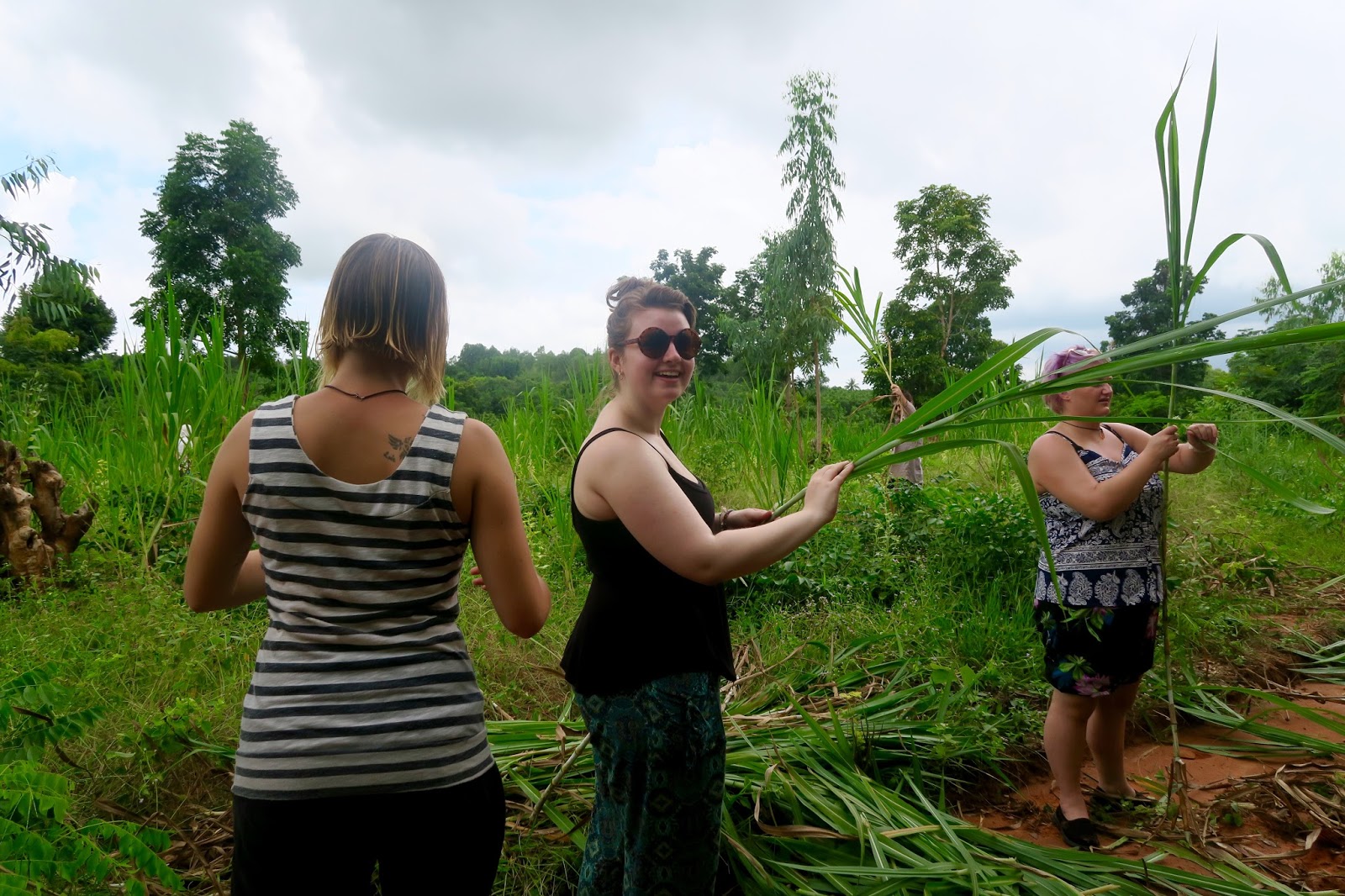 Tuesday - With work starting at 9, and breakfast consisting of toast, cereal or fruit, mornings were pretty chilled. We drove to the surrounding villages to cut down coconut leaves and banana trees for the elephants food in the morning, which was hard work as Thailand is a hot place - even in winter - with temperatures in October reaching 35 degrees celsius, and banana trees are heavy! Don't worry though, work only lasts until 10.30am - 11am and theres is plenty of water on hand! Once the truck is loaded up we drive back to the homestay to feed the elephants all the food we just collected, and have lunch ourselves! Then after we are all well-fed the afternoon's activities consist of kayaking in the river or fishing, or if neither of those take your fancy you can have free time to do what you want!
Wednesday - Wednesdays are work days! In the morning its cutting down sugarcane from one of the many fields owned by the project, where the sugarcane is placed in the truck and the leaves are taken back to the sanctuary for the elephants lunch! Then after lunch its time to take those sugarcane cuttings to a planting field, where they need to be placed in the ground and covered - so more sugarcane plants can grow thus providing more food for the elephants! This is hard work, but once again an abundance of water is on hand and regular breaks are given, sometimes if you're lucky, the project workers will go to the shop during work and bring back orange juice, fizzy drinks and snacks to keep you energised. Once we have returned from work and showered, its local market time, where you can purchase clothing and local delicacies. Market day also means that there is a lot of fresh fruit for after dinner, something that I looked forward to every week!
Thursday - On your first week, Thursday morning is when you make elephant poo paper, a concept that is actually a lot more fun that you may think! The elephant poo paper that is made in the village is made into souvenirs that contribute 100% of profits to elephant conservation projects, which is something that I really liked! The process of making elephant poo paper includes draining the elephant poo but standing on it barefoot to get out all the moisture and then bleaching and dyeing the fibres before hanging them out to dry as paper! You also receive a free piece of poo paper in your chosen colour and you have the opportunity to purchase souvenirs and donate back to the conservation projects!
If you are staying more than one week, your second Thursday morning consists of weeding the fields of sugarcane plants that other groups have planted (just like we planted on Wednesday!) After lunch, we take the elephants back to the river like we did on Monday and wash them once more. Then its back to Surin for the weekend! Thursday evenings to Sundays are free time and you can spend them as you wish!
Activities you can do in Surin at the weekend;

- go to the swimming pool at the Majestic Hotel (100 baht for all day & free wifi - & serves food)
- go to the night market which is on every night in the city (shops, food, the whole lot)
- go to one of the 2 shopping centres (Robinson or the Plaza) where you can shop, eat or catch a movie
- visit the national park which is 4 hours away from Surin by train for the weekend
- visit Cambodia for the weekend, only an hour & a half away from Surin
- visit the islands in the south of Thailand ; we went to Koh Samet for the weekend - an island in the south of Thailand that is 9 hours away by bus but is absolutely beautiful! Relax on the beach, go snorkelling or have some cocktails in the sun!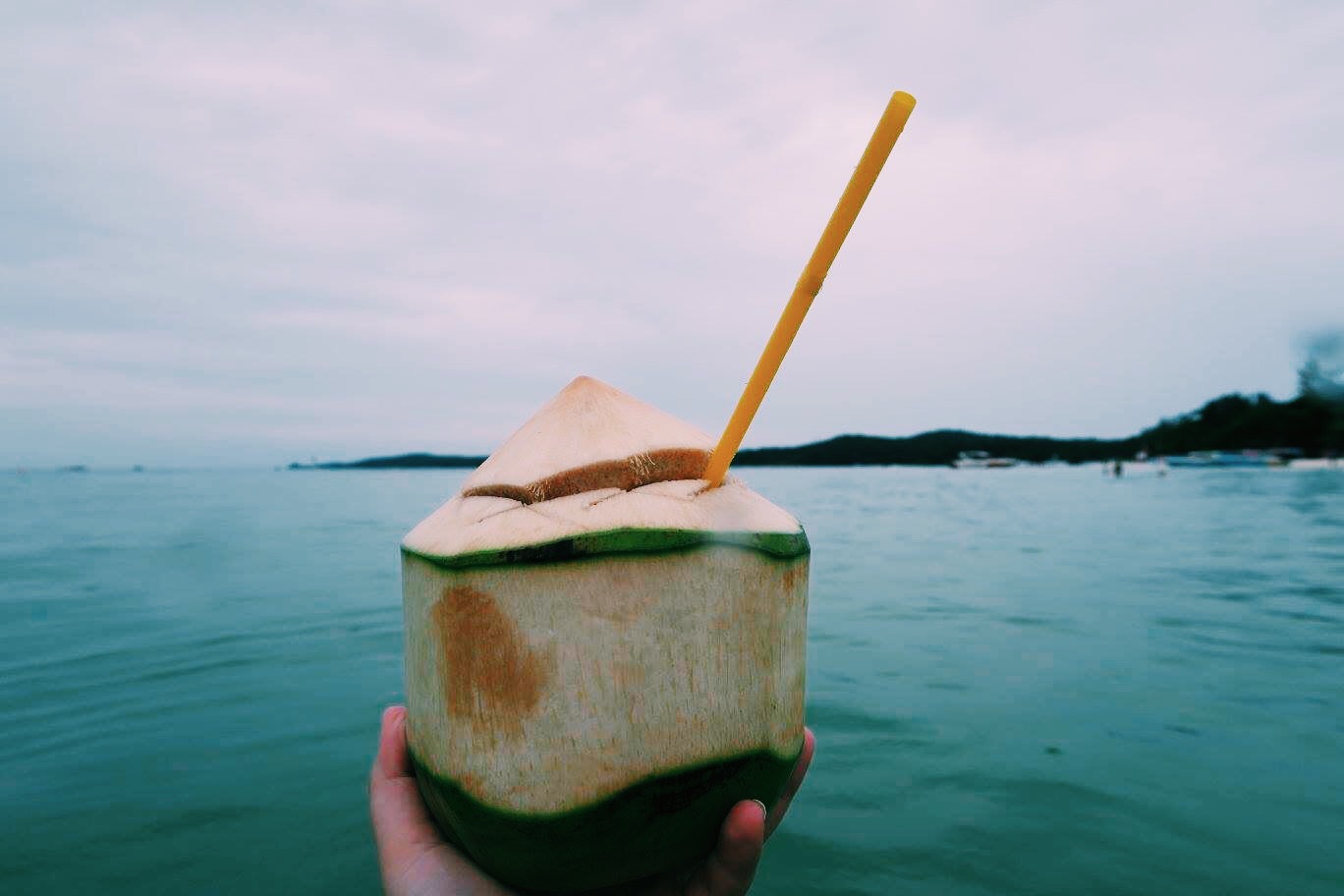 THE TECHNICAL STUFF

For all the information on the project you can visit their website www.gap360.com - just search Elephant Experience or click here to see the project page that I went with. The project runs every 2 weeks pretty much all year round, and the pricing is as follows:

- 2 weeks = £789

- 3 weeks = £919

- 4 weeks = £1069

This price includes;

- ALL accommodation (hotel in Bangkok, house in Surin and house in the elephant village) unless you go travelling somewhere else at the weekend

- 3 meals a day at the elephant village (they can acommodate vegans really easily)

- Airport pickup & Bangkok city tour

- ALL TRANSPORT during the week (weekend transport in Surin is not included)

- ALL activities at the elephant village (kayaking, market, cookery lessons etc)

What isn't included;

- Flights (you can check out cheap flights at www.skyscanner.net)

- Travel Insurance & Visa (only need a visa if you stay more than 30 days)

- Meals when in Surin (around £1.50 per meal)

- Return bus to Bangkok (costs around £8-£10)

- Weekend activities when in Surin or weekend trips to other parts of Thailand / Asia

- Vaccinations (I got Hep A & B, Typhoid and Rabies)

YOU MUST BE 18 OR OVER TO DO THIS PROJECT